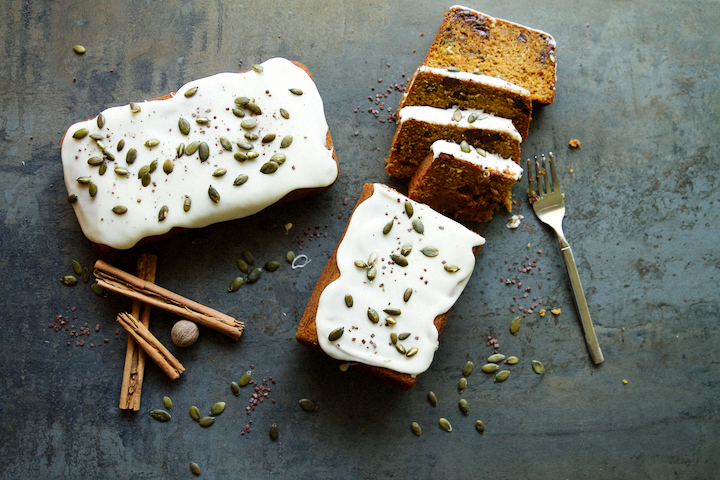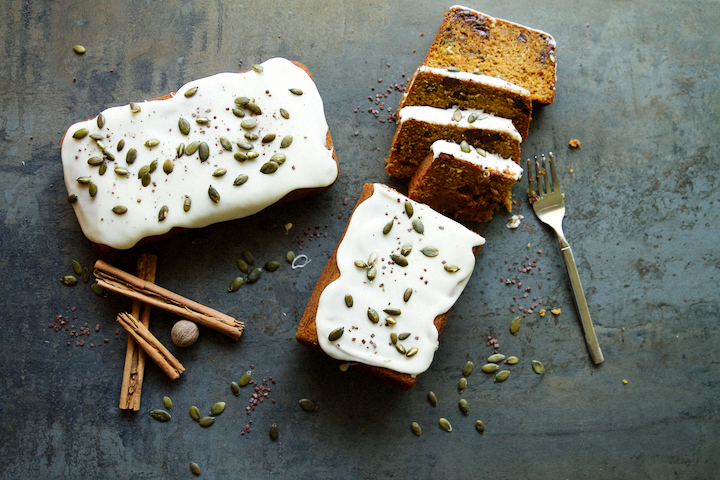 Kabocha, Olive Oil & Bittersweet Chocolate Cake
By TheSweetNerd Breads & Bundts, Cakes
September 24, 2016
Ingredients
1 lb piece kabocha squash, seeded
Extra-virgin olive oil for drizzling, plus 1 cup & 1 Tbsp
8 oz bittersweet chocolate, finely chopped
Olive Oil Glaze
1 1/4 cups confectioners' sugar, sifted plus more as needed
Directions
1Preheat the oven to 425 degrees. On a baking sheet, drizzle the squash with olive oil, turn the piece cut-side down. Cook until very soft and beginning to caramelize around the edges, 30 to 45 minutes. Remove from the oven and let cool. Scrape out the squash flesh and transfer to a food processor. Pulse until smooth.
2In a large piece of cheesecloth, wrap the pureed squash in a tight bundle. Put in a colander set over a bowl and let drain at least 4 hours, or up to overnight. Squeeze by twisting the cheesecloth to remove any extra water. Unwrap the drained squash and measure out 1 cup.
3Preheat the oven to 325 degrees. Butter a 9-by-5-in loaf pan.
4Sift the flour, baking powder, baking soda, cinnamon, nutmeg, and salt into a large bowl. In a medium bowl, whisk together the granulated sugar, olive oil, squash puree, and eggs. Make a well in the center of the flour mixture and pour in the squash mixture. Whisk until just combined. Stir the chocolate into the batter.
5Pour the batter into the prepared pan and bake until browned on the top and a skewer inserted in the center of the cake comes out clean, 75 to 90 minutes. Let cool in the pan on a wire rack for 20 minutes. Run a knife around the edges and invert the cake from the pan. Let cool on the rack for another 20 minutes. Transfer to a serving plate.
6In a small, dry frying pan over medium heat, gently toast the pepitas just until fragrant and beginning to brown, about 3 to 5 minutes. Let cool.
Olive Oil Glaze
1In a small bowl, whisk the confectioners' sugar with 2 Tbsp hot water until you have a thick glaze. Add more confectioners' sugar or water as needed to create a smooth glaze with the viscosity of honey. Slowly drizzle in the olive oil, whisking constantly.
2Pour the glaze over the cake, allowing it to drip over the sides. Sprinkle with the cacao nibs and pepitas and let the glaze set completely before serving, about 1 hour.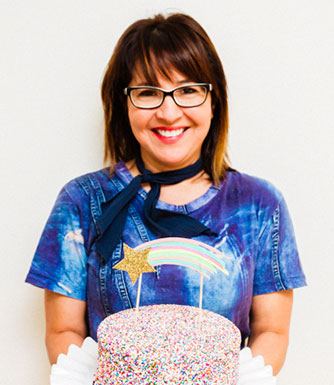 LET'S BAKE TOGETHER!
Don't Miss A Recipe