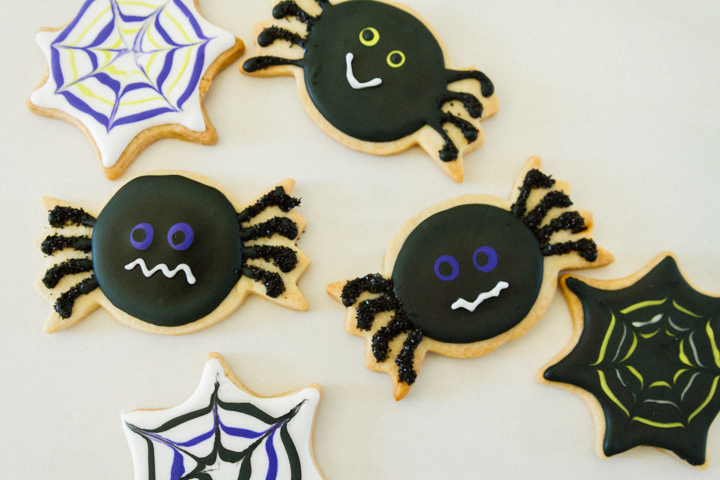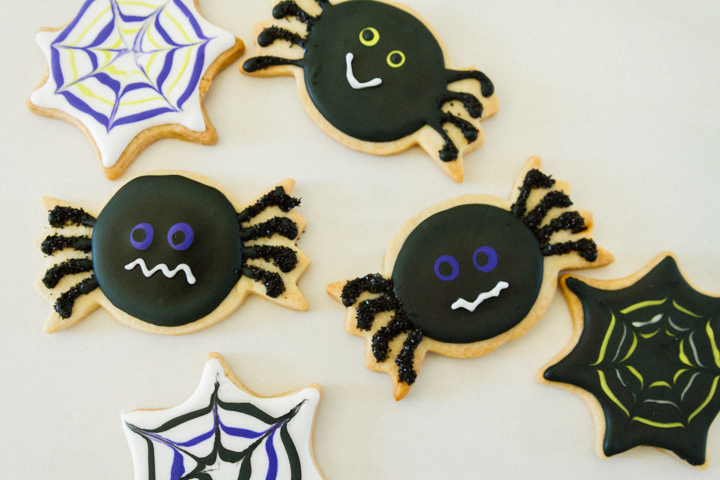 Creepy Crawly Cookies
By TheSweetNerd Cookies
October 3, 2017
Prep: 1 hr 30 mins
Cook: 20 mins
Yields: 2-3 dozen cookies
Ingredients
Sugar Cookies
1 cup unsalted butter, softened
Royal Icing
Decorating
Tips: Ateco or Wilton Tips #1, #2
Americolor Food Coloring: Electric Purple, Electric Green, Black
Directions
Sugar Cookies
1Dries: Whisk flour and salt in a bowl. Set aside.
2Base: In a mixer, cream together butter and sugar.
3Next, add eggs, vanilla and optional flavorings of citrus zest or spices (ie: cardamom).
4Gradually, add dries to base just until incorporated. Chill in refrigerator up to one hour. Roll on lightly floured surface. Cut shapes and refrigerate to chill.
5Bake at 350F for 8-10 minutes or until edges are slightly browned. Note: when you cut into a shape, chill in freezer to set. Then, transfer directly to hot oven.
Royal Icing (shared from Sweet Sugarbelle)
1Add vanilla flavoring into 1/2 cup water and set aside until step 3.
2In the mixer (paddle attachment), gently mix confectioners sugar and meringue powder on low.
3Add 1/2 cup flavored water and mix on low until it is thick and lumpy.
4Drizzle the remaining water as needed until it becomes a thick like honey consistency.
5Turn mixer on medium speed for 2-3 minutes or so until icing is thick and fluffy. Stop when it forms a soft peak. If you are not using immediately, keep stored in airtight container.
6Separate into mixing bowls and adding 1/2 teaspoon at a time until icing becomes thin and a '10 second consistency', meaning threads of icing fall off a spoon and are absorbed completely back into the icing within 10 seconds.
7Now add Americolor gel drops, one at a time until you get the desired color.
8Load your piping bag, and get ready to make some fun sugar cookies.
9Tip: place a toothpick on the end of the Ateco or Wilton tip to avoid air from drying the royal icing.
10Spider: Start by outlining a circle in the middle, then flood with black. Immediately create eyes by filling a two small circle eyes, then add in black pupils. Let dry. Pipe black legs and immediately pour over black sanding sugar. Let sit until dry. Then scrape off with toothpick the excess black sanding sugar. Finish by adding mouth detail (atop dry black body).
11Web: Start by outlining the web shape, then flood with white. Make two circle rings alternating purple and green inward then outward. Then immediately with a toothpick 'pull' the wet icing from the center outward to create the webbed look.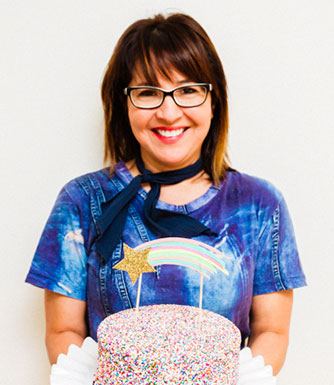 LET'S BAKE TOGETHER!
Don't Miss A Recipe