Ingredients
Cake
2 ounces Dutch-processed cocoa powder
1 1/2 teaspoons vanilla extract
2 tablespoons unsalted butter, soft at room temperature
7 ounces egg whites (from about 6 large eggs)
Mascarpone vanilla bean whipped cream
1 vanilla bean, split lengthwise and seeds scraped
Dark chocolate glaze
8 ounces 60% to 70% dark chocolate
Directions
Cake
1Preheat oven to 350° F. Prepare a 17- by 11-inch baking sheet. Lightly oil the bottom and sides, line bottom with parchment paper, and lightly oil again.
2In a small bowl, combine the cocoa powder, hot water, vanilla extract, and butter. Set aside.
3In the bowl of a stand mixer, add 4 ounces of sugar and egg yolks. Whip on medium-high until light pale yellow in color and fluffy (about 5 minutes). Add the chocolate mixture and whip until combined. Scrape down the bowl and mix in any stray bits.
4In a clean large bowl, whip egg whites until soft peaks form. Gradually, add in remaining 1 ounce sugar while continuing to whip until stiff peaks form. Using a spatula, fold 1/3 of egg whites into egg yolk-chocolate mixture to lighten it. Fold in another third and then the last remaining third.
5Pour batter into the prepared baking sheet and evenly smooth it out with an offset spatula. Bake for 17 to 18 minutes. The edges of the cake will pull away slightly from the sides of the baking sheet when done. Set on a cooling rack and lightly dust entire surface with cocoa powder. Place a lightly damp kitchen towel over the cake and let cool.
6To assemble the cakes: Carefully remove the cake from the pan and transfer to a flat work surface. With an offset spatula, evenly spread the filling over the entire surface. With a knife, trim off the edges of the cake. Next, cut the cake into four sections (cut in half vertically, then in half horizontally). Cut through the parchment paper to keep it attached to each cake section.
7Roll each section up one at a time, beginning with the longer side of each section. Carefully curl the edges up and using the parchment paper for support. Gently peel away the parchment as you roll it up. Once complete, place them in the refrigerator for 20 to 30 minutes to firm up the filling.
8Neatly trim off the ends of each cake roll section and cut each section into three-inch sized portions (cutting each section in half should give you around three-inches). On a flat work surface, place a wire cooling rack over a sheet of parchment paper or foil and evenly space the cakes on the rack for glazing.
9Pour the fluid glaze over each snack cake until it is completely enrobed in chocolate. With an offset spatula or a fork, carefully transfer each glazed snack cake onto a plate for serving. If not serving right away, place them all onto a small baking sheet, cover lightly with plastic wrap, and store in the refrigerator until ready to serve (up to 2 days). Let them come to room temperature before eating for the softest and best experience.
Mascarpone vanilla bean whipped cream
1In the bowl of a stand mixer (or with a hand-held mixer) whip cream, mascarpone, sugar, vanilla extract, and vanilla bean seeds together just until stiff peaks form and filling holds its shape when spread.
Dark chocolate glaze
1Combine dark chocolate, butter, and honey in a bowl and melt over a double-boiler. Remove from heat and let cool slightly. If preferred, you can place all ingredients in a microwave-safe bowl and heat for 1 minute. Stir mixture, and then heat for 15-second intervals, mixing at each interval, until melted. Do not overheat or it will burn the chocolate. Glaze should be warm and fluid for glazing (not hot or it will run off of the cakes and melt the filling).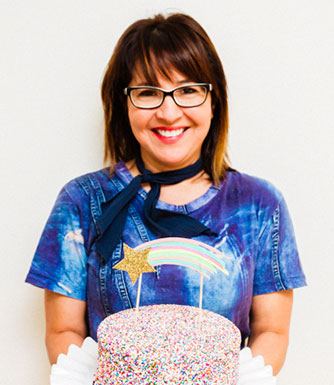 LET'S BAKE TOGETHER!
Don't Miss A Recipe