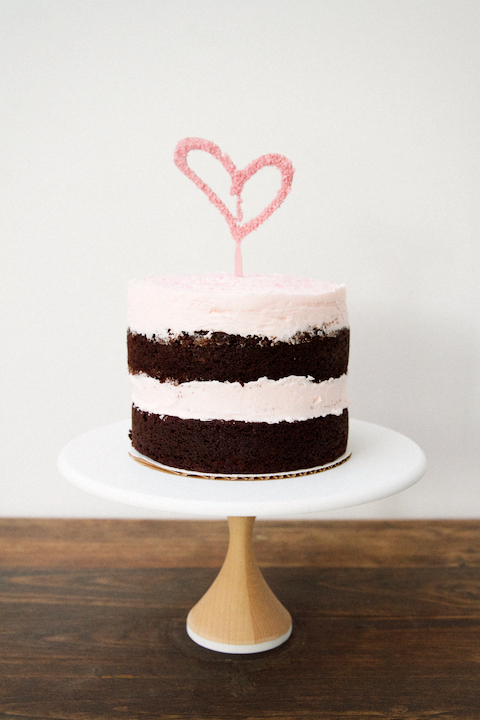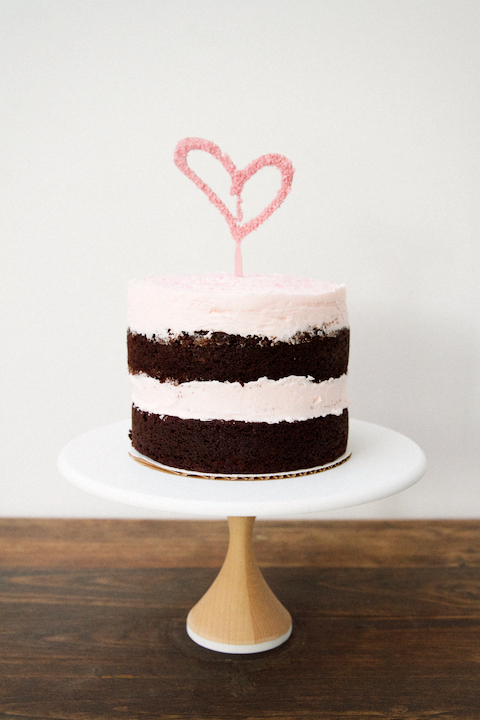 Double Chocolate Cake
By TheSweetNerd Cakes
December 22, 2016
Cake Recipe Credits: Miette
Frosting Recipe Credits: Lyndel Miller
Prep: 20 mins
Cook: 35 mins
Ingredients
Chocolate Cake (Adapted from Miette)
1 1/4 cups natural unsweetened cocoa powder
2 ounces 70% cacao chocolate, coarsely chopped
2 large eggs, at room temperature
Vanilla Cream Cheese Buttercream (adapted from lyndel miller)
6 ounces unsalted butter, softened
9.5 ounces or 2 1/4 cup confectioners sugar, sifted
4 1/4 ounce or 1/2 cup cream cheese softened
Directions
Chocolate Cake
1Liberally butter two 6-by-3 inch cake pans and dust with sifted cocoa powder. Tap out the excess cocoa. Preheat the oven to 350 degrees Fahrenheit.
2Sift together the flour, cocoa powder, baking soda, baking powder, and salt into a bowl and set aside.
3Put the chocolate in a heatproof bowl and pour the boiling water over it. Whisk until the chocolate is melted. Let the mixture cool for 15 minutes.
4In a separate bowl, whisk together the buttermilk and vanilla. Set aside.
5In the bowl of a stand mixer fitted with the whisk attachment, whisk the eggs on high speed until foamy, about 2 minutes. Reduce the speed to low and slowly pour into the oil, whisking until combined, about 30 seconds. Raise the speed to medium and whisk until fully incorporated, about 30 seconds longer.
6Reduce the speed to low and slowly pour the cooled chocolate mixture into the egg mixture. Slowly pour in the buttermilk and vanilla mixture. Add the sugar and whisk until the batter is smooth and liquid, about 2 minutes.
7Stop the mixer. Remove the bowl and add the sifted dry ingredients and mix until just incorporated, preferably by hand, lifting and folding in from the bottom center. Using a rubber spatula, scrape down the sides of the bowl and mix again just briefly by hand. The batter may still look a little lumpy, but stop mixing.
8Pour the batter through a medium-mesh sieve into a large measuring cup or bowl to remove any lumps. Press against the solids in the sieve with a rubber spatula to push through as much batter as possible, then discard the lumps. Divide the batter between the prepared pans. Bake until the tops spring back when lightly pressed and a tester inserted in the center comes out clean, about 35 minutes.
9Transfer to wire racks and let cool in the pans for about 20 minutes. When the cakes are cooled enough to handle the pans but still a tad warm to the touch, carefully run an offset spatula around the edges of the pans to loosen them, then invert the cakes onto the racks and remove the pans. Let cool for about 20 minutes longer. Wrap the cakes tightly in plastic wrap and refrigerate to ensure that the interiors are completely cooled before decorating, at least 1 hour. To freeze, wrap tightly in a second layer of plastic and store in freezer for up to 2 months.
Vanilla Cream Cheese Buttercream
1Using an electric mixer, beat all the ingredients together for 3-5 minutes or until light and fluffy. Use it to fill or top the cake of your choice.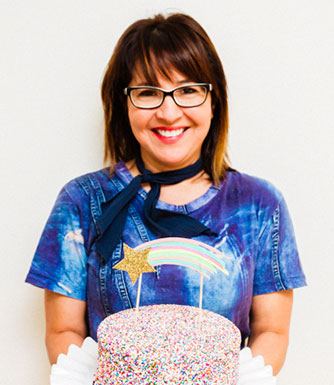 LET'S BAKE TOGETHER!
Don't Miss A Recipe