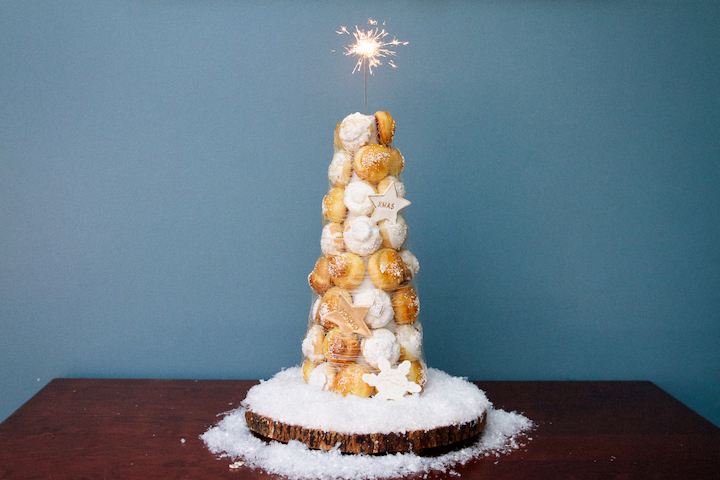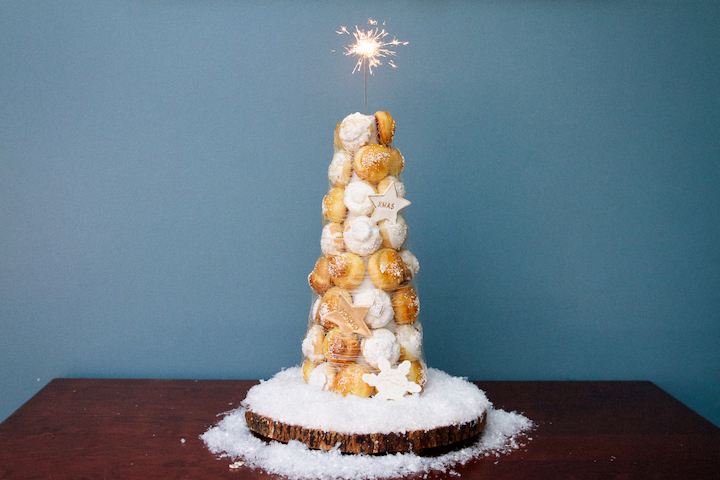 Croquembouche Puff Pastry
By TheSweetNerd Cremes and Puddings
November 15, 2016
This recipe requires 3.5 of time.
Prep: 2 hrs 30 mins
Cook: 1 hr 30 mins
Ingredients
Pâte à Choux (For Croquembouche Double Recipe Below)
4 ounces unsalted butter, diced
1-2 large egg whites (or more if needed)
Pastry Cream
Caramel Glaze
Royal Icing (optional for decorating)
Directions
Pâte à Choux
1Combine milk, butter, sugar, and salt in a saucepan and bring to a boil over high heat.
2Reduce the heat, and add flour all at once and stir vigorously. Cook stirring constantly with a wooden spoon, until the dough begins to come away from the sides of the pan (about 7-10 minutes). The goal is to release the steam from the wet dough (as much as possible).
3Transfer to the bowl of a standing mixer fitted with the paddle and beat at medium speed until cooled to body temperature. Add the eggs, one at a time, beating well after each addition and scraping down the sides of the bowl with a rubber spatula. Beat in the egg whites. Add extra if needed until dough is the right consistency (use drip method to determine readiness).
4Transfer dough to a piping bag with a 1/4 inch open round tip.
5On a piece of parchment paper, trace 1 1/4" - 1 1/2" circles. Next, flip over paper and pipe the dough starting at the center of the traced circle working your way outward until it forms a mound and reaches the outer circle.
6Bake at 350 until golden brown.
Pastry Cream
1Mixing Bowl: Mix cornstarch, ¼ cup sugar (reserve the other ½ cup sugar for later), ½ cup milk (reserve other 1 ½ cups for later), and egg yolks. Set aside and start saucepan mixture.
2Saucepan (nonreactive): Place on stovetop over medium-low heat. Add the reserved 1 ½ cups milk, ½ cup sugar, and salt. Scald milk.
3Temper the egg mixture by gradually adding about 1/3 of the hot mixture, whisking constantly so the egg doesn't cook. Return this mixture back into the saucepan and continue cooking over medium heat, vigorously stirring with a whisk, until the mixture comes to a boil and the whisk leaves a trail in the pastry cream, usually about 5-7 minutes. Remove from heat, stir in the vanilla and the butter, and cool over an ice bath.
4Optional: For a lighter filling, you can fold in whipping cream. To make the whipping cream, whip 3/4 cup cold heavy cream + 1/4 cup sifted powdered sugar until stiff peaks form. Next, fold this into the pastry cream. Refrigerate for up to 3 days.
Caramel For Dipping & Assembly
1To make the caramel: In a medium saucepan, combine 2/3 cup water, sugar, and corn syrup, and bring to a boil over high heat until syrup is amber in color. Remove from heat. Dip side of each puff into the caramel, and arrange puffs by rows. (If sugar is still clean, you can rewarm once on low flame to liquify.) For the assembly, make a fresh batch of caramel. Dip a fork into the caramel and let most of the sugar drip off the fork. Then, spin the cake turntable while threading the sugar around the puffs. This will help create a web. Continue this process until you have reached your desired sugar web. Serve immediately.
Optional, Royal Icing
1Add vanilla flavoring into 1/2 cup water and set aside until step 3.
2In the mixer (paddle attachment), gently mix confectioners sugar and meringue powder on low.
3Add 1/2 cup flavored water and mix on low until it is thick and lumpy.
4Now drizzle the remaining water as needed until it becomes a thick like honey consistency.
5At this point, turn mixer on medium speed for 3 minutes or so until icing is thick and fluffy. Stop when it forms a soft peak.
Optional, Fondant Stars
1Roll out white fondant to 1/8 inch thick and make star shaped cut-outs. Splatter with edible glitter or food coloring.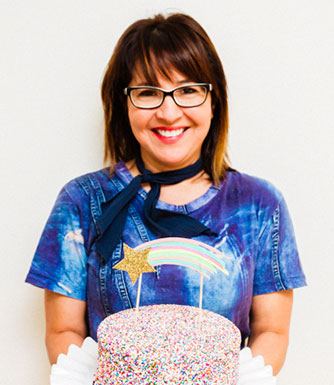 LET'S BAKE TOGETHER!
Don't Miss A Recipe