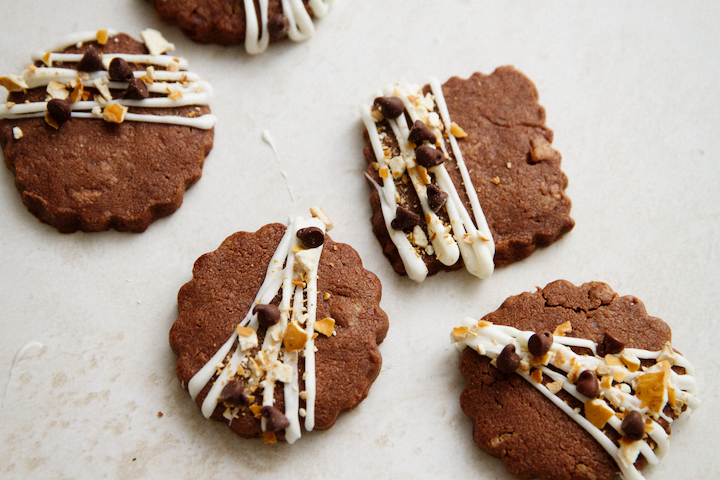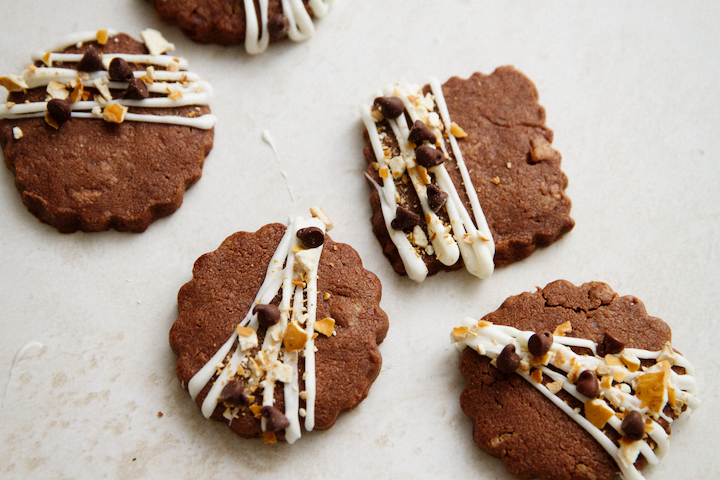 Chocolate Pretzel Shortbread Cookies
By TheSweetNerd Cookies
November 7, 2016
Prep: 25 mins
Cook: 10 mins
Ingredients
Shortbread
2 cups sourdough pretzel nuggets
2/3 cup dutch processed cocoa powder
1 ½ cups plus 2 tablespoons unsalted butter (13 ounces) at room temperature
1 ¼ cup confectioners sugar, sifted
2 extra large egg yolks at room temperature
2 teaspoons pure vanilla extract
Toppings
High quality white melting chocolate
Mini chips, butterscotch and chocolate chip
Directions
Shortbread
1In a food processor, grind the pretzel nuggets until they resemble bread crumbs, but stop before they become a powder. Pulse in the flour, cocoa, and salts.
2In the bowl of a standing mixer, fitted with the paddle attachment, mix the butter on medium speed for 10 seconds. Add the sugar and mix on low speed to incorporate. Increase the speed to medium to cream the butter sugar mixture until it is aerated and looks like frosting, about 3-4 minutes. Scrape the sides and bottom of the bowl with a rubber spatula to bring the batter together.
3Put the yolks in a small cup or bowl and add the vanilla.
4On medium speed, add the yolks one at a time, mixing briefly until the batter resembles cottage cheese, approximately 5 seconds per yolk. Scrape the sides and bottom of the bowl together. Mix on medium speed for 20-30 seconds to make nearly homogenous.
5Add the pretzel-flour mixture all at once and mix on low speed until the dough just comes together but still looks shaggy, about 30 seconds. Do not over mix. Remove from bowl and form together with your hands. Divide dough in half and saran wrap. Place in refrigerator. Chill for 2 hours or overnight.
6Remove chilled dough. Let is sit at room temperature for 15 minutes before you roll it out to prevent cracking (cool to touch still). Roll out dough between 2 sheets of saran or parchment paper until about 1/4" thick. Poke dough with fork and using a cutter, punch out cookies. Place on cookie tray and place back in freezer for 10 minutes until set.
7Bake at 350 for 10 minutes. Then rotate pan, and bake for another 3-5 minutes or until the cookies feel firm and hold their shape when touched. Cool completely.
Toppings
1Melt the white chocolate in the microwave in 10-15 second intervals until smooth. Drizzle the chocolate on each cookie and add in pretzel chunks with chocolate or butterscotch chips.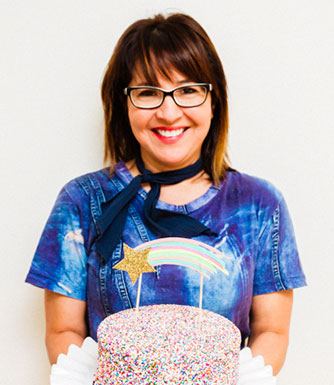 LET'S BAKE TOGETHER!
Don't Miss A Recipe