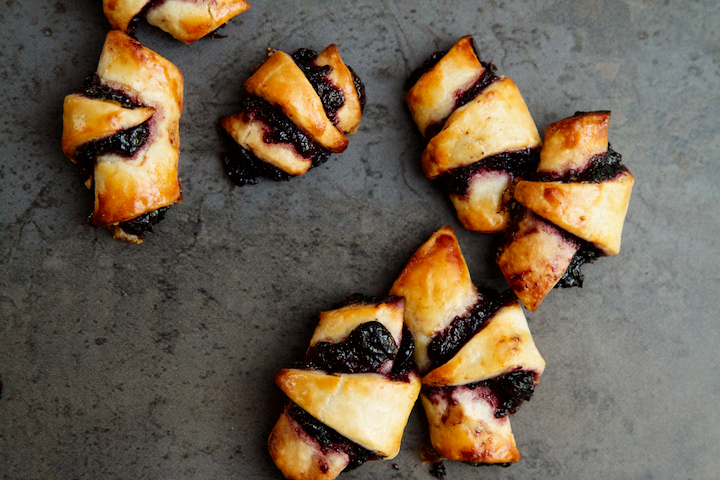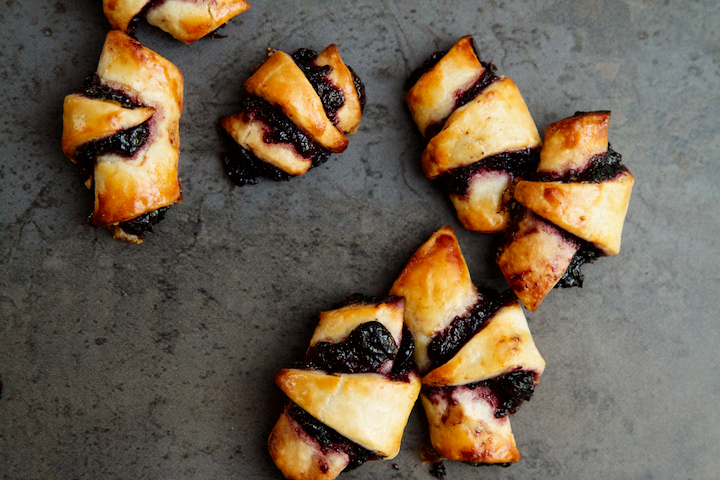 Blueberry and Rhubarb Rugelach
By TheSweetNerd Breakfast & Brunch
September 15, 2016
Ingredients
Cream Cheese Dough
1 cup (8 ounces) unsalted butter, room temperature
8 ounces cream cheese, room temperature
1/3 cup plus 1 tablespoon granulated sugar
1 teaspoon pure vanilla extract
Filling
1 1/2 cups your favorite jam, I used blueberry rhubarb
Directions
Cream Cheese Dough
1Bowl: Combine dries of flour and salts. Set aside.
2Mixer: Cream butter, then add cream cheese until aerated. Add sugar and continue to aerate for a few minutes. Scrape down. Add vanilla. Then add dries to mixer all at once just until dough comes together (30 seconds or so). Do not overmix. Cover with plastic wrap and place in refrigerator.
Roll Dough
1Place dough onto a piece of parchment paper. Using a rolling pin and a pastry roller, roll the half of the dough into a rectangle, leaving the 1" border from the edge of the parchment paper. The dough should be just shy of 1/4" thick. If the edges become uneven, push a bench scraper against the sides to straighten them out. To keep the dough from sticking to the parchment paper, periodically dust the top lightly with flour, cover with another piece of parchment paper, and sandwiching the dough between both sheets of parchment paper, flip the dough and paper over. Peel off the top layer of parchment paper and continue to roll.
2Repeat with the second half of the dough. Stack both sheets of dough on top of each other and refrigerate until chilled, approximately 30 minutes.
3Heat the oven to 350 degrees F.
4Line a few half sheet pans with parchment paper and lightly coat with nonstick cooking spray.
Assembly
1Invert the sheets of dough onto the work surface and peel off the top sheet of parchment paper. For each sheet of dough, spread 3/4 cup of jam in a thin, even layer across the surface. Trim the edges. Using a dough cutter, divide the sheet in half lengthwise into two long strips. Working with one strip at a time and moving crosswise, cut out triangles with flat tips, with each base approximately 1 1/2 inches wide and each tip approximately 1/4 inch wide. Shoot for 10-12 triangles per strip.
2Using an offset spatula, start separating the triangles away from the rest of the dough. Starting from the base, roll the dough like a crescent roll. Place tip-side down on the prepared sheet pan and repeat with the remaining triangles, spacing them on the pan 1" apart. Brush the tops with egg white.
3Bake one pan at a time for 15 minutes. Rotate the pan and bake for another 6 to 8 minutes, or until the tops are golden brown. Remove the rugelaches quickly when you pull from the oven. Using an offset spatula, transfer the cookies to a wire rack to cool completely.
4Repeat with remaining dough.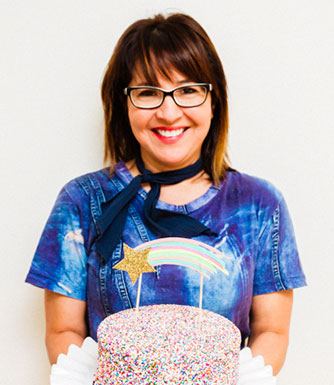 LET'S BAKE TOGETHER!
Don't Miss A Recipe