Ingredients
Cake
8 ounces butter, room temperature
9 ounces greek yogurt, room temperature
2 tablespoons strawberry puree (smashed strawberries through a sieve)
Sugar Cookie Recipe & Royal Icing
Frosting For Cake
12 ounces unsalted butter, softened
4 1/2 cups (19 ounces) powdered sugar, sifted
1 cup (9 ounces) cream cheese softened
2 teaspoons vanilla bean paste
Pink food coloring 1 - 2 drops
Directions
Cake
1Pan Prep: Spray pans with nonstick spray and line with parchment.
2Dries: Sift flour, baking powder, and baking soda in a mixing bowl and set aside.
3Mixer (Whisk): Whip Butter for 1 minute, then add sugar and whip for 2 minutes until light and fluffy. Add the eggs, one at a time until mixed. Add vanilla, lemon zest, and salt. With mixture on low speed alternate adding in dries and yogurt mixture just until combined. Add in lemon juice just until combined.
4Bake for 30-40 minutes or until golden brown and skewer comes out clean. Once cool, level cakes evenly.
Simple Syrup
1Boil 1/2 cup water and 1/2 cup sugar until it is clear. Once cool, add in 5 tablespoons of fresh lemon juice.
2-Frosting
3Whip ingredients together. Add food coloring. Split in half for filling ring and outside decorating.
Sugar Cookies & Icing
Assembly
1Have all your items prepped and ready to go: Cake Levels, Filling, Simple Syrup, and Strawberry Jam
2Start with bottom layer and adhere to cake board with a small dollop of frosting. Brush with simple syrup. Then, pipe a ring of frosting on each layer, with strawberry jam (roughly 1/4 cup) in the center for filling. Repeat
3When you get to top layer, crumb coat the entire cake and place in refrigerator overnight.
4Frost the outside of the cake with the remaining 1/2 portion of frosting and use a bench scraper to get an even look. Place back in refrigerator to firm up the frosting.
5Use storebought black frosting for mouth and bunny.
6Cut a slit for the ears, and place atop the cake.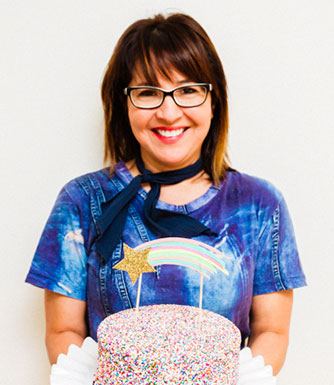 LET'S BAKE TOGETHER!
Don't Miss A Recipe