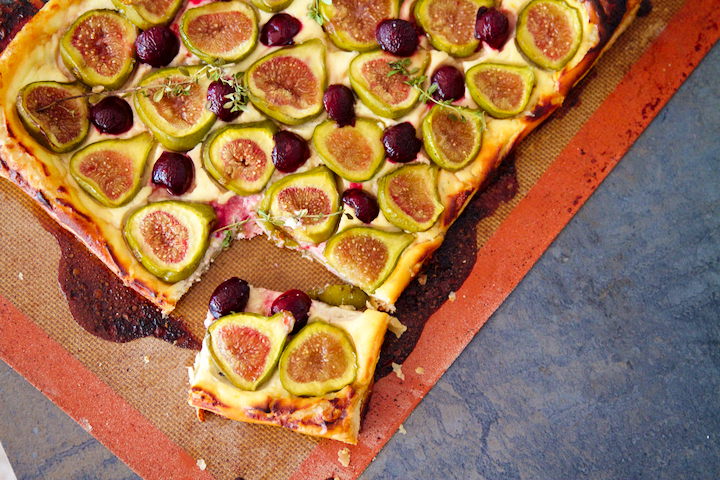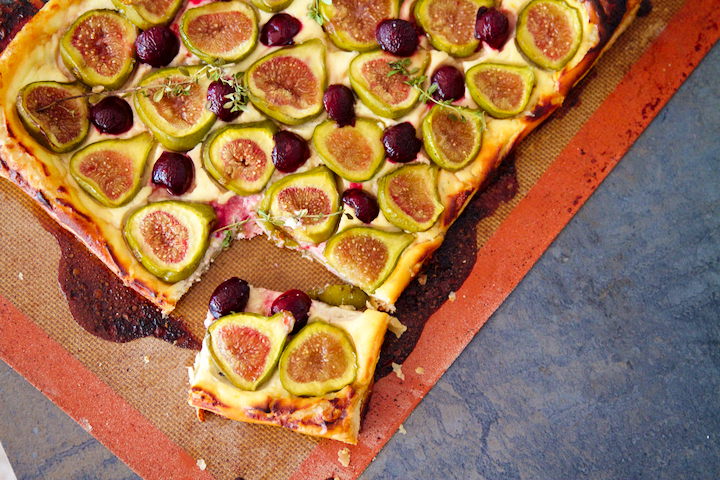 Simple Fig & Cherry Goat Cheese Tart
By TheSweetNerd Breakfast & Brunch, Pies & Tarts
September 14, 2016
Prep: 20 mins
Cook: 50 mins
Ingredients
Frozen Puff Pastry
Goat Cheese Layer
2 teaspoons confectioners sugar
1 tablespoon chopped thyme leaves, plus extra for garnish
Fruit Layer
1 1/3 pound ripe figs, cut in halves
½ pound cherries, pitted and cut in halves
Glaze Layer
Directions
Puff Pastry
1Follow instructions on pastry box to properly thaw puff pastry. Roll out puff pastry dough and egg wash about a 1" border around the dough. (It's rare that you would need to dust the counter with flour as there should be enough flour already on the dough. The goal is to not stretch the dough too much, just enough to eliminate the crinkles.)
Goat Cheese Layer
1Place the goat cheese in a bowl with 2 teaspoons of the confectioners sugar, orange zest, thyme, and three-fourths of the beaten eggs. Whisk until smooth and then stir in the ground almonds. Mix until you get a smooth consistency.
Assembly
1Spread the goat cheese mixture on top, leaving a border of about 2/3 inch.
2Next, brush the goat cheese layer with high quality honey.
3For the fruit layering, place cherry and figs on top of the mixture, placing them cut-side up and slightly overlapping, as they will shrink when cooking. Brush the remaining egg over the border. Sprinkle the superfine sugar over the figs, cover the tart with aluminum foil, and set aside in a warm place for 20 minutes.
4Remove the foil and place the tart in the oven. Bake for 30 minutes, until the figs are caramelized and the base is golden brown.
Glaze
1Whisk the remaining confectioners sugar with lemon juice. You want a thick spreadable icing, so add a bit of juice or confectioners sugar as needed. Remove the tart from the oven and use a spoon to drizzle the icing over the figs and cherries. Sprinkle with thyme and eat warm or at room temperature.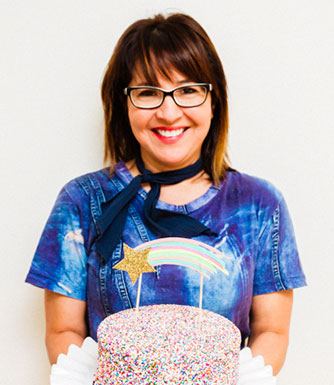 LET'S BAKE TOGETHER!
Don't Miss A Recipe