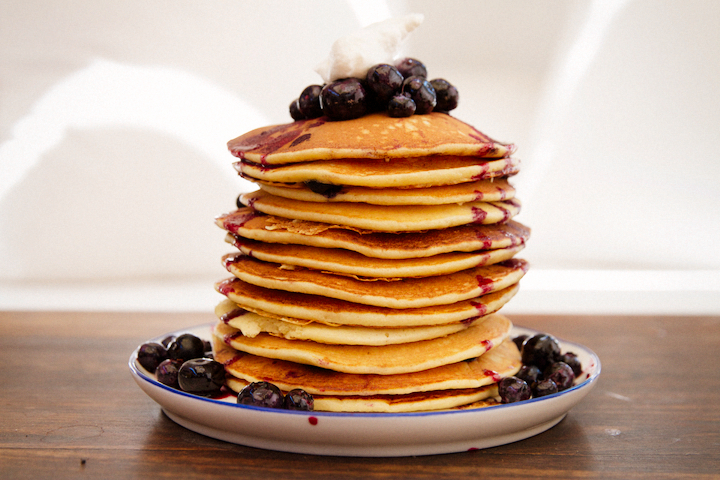 Ingredients
1 3/4 cups plus 2 tablespoons milk
6 ounces ricotta cheese (1/2 cup plus 2 tablespoons)
1 tablespoon pure vanilla extract
Unsalted butter, for the griddle
2 cups fresh blueberries (or frozen thawed)
Directions
Pancakes
1In a small bowl, whisk the flour, baking powder and salt. In a large bowl, whisk the egg yolks with the milk, ricotta, sugar and vanilla. Add the dry ingredients and whisk until the batter is smooth.
2In a large bowl, using an electric mixer, beat the egg whites at medium speed until frothy. Beat at high speed until soft peaks form. Fold the egg whites into the batter until no streaks remain.
3Preheat the oven to 225°. Heat a griddle, then lightly butter it. For each pancake, ladle a scant 1/4 cup of the batter onto the griddle; be sure to leave enough space between the pancakes. Cook over moderately low heat until the bottoms are golden and the pancakes are just beginning to set, 1 to 2 minutes. Sprinkle each pancake with a few blueberries and press lightly. Flip the pancakes and cook until golden on the bottom and cooked through, about 1 minute longer. Transfer the pancakes to plates and keep them warm in the oven while you make the rest.
Sauce
1In a saucepan, combine blueberries, sugar, herb, lemon zest, lemon juice, and water. Let simmer until reduced to a sauce. Cool or serve warm.
Whipping Cream
1In a small bowl combine cold heavy cream with confectioners sugar and whip with a whisk until you get medium peaks. Place a dollop on top of shortstack.
2Serve with blueberry sauce and whipping cream.