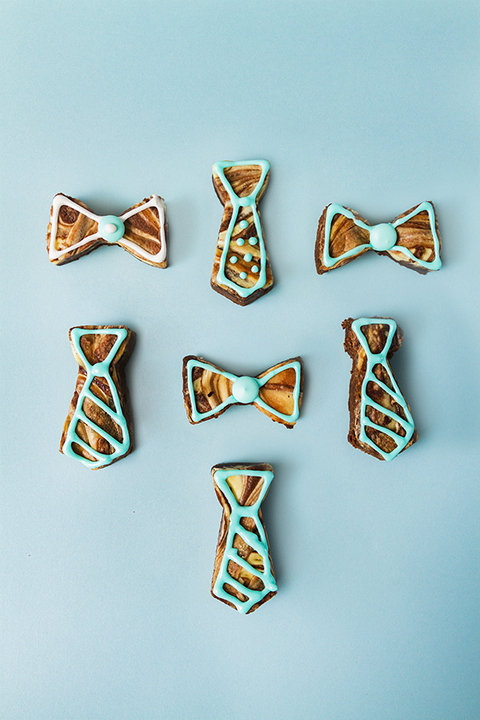 Ingredients
Brownie batter
1 stick (1/2 cup) unsalted butter, cut into pieces
2 ounce unsweetened chocolate, chopped
1/2 teaspoon pure vanilla extract
Cheesecake batter
8 ounces cream cheese, well softened
1/4 teaspoon pure vanilla extract
Royal icing
Extras
Tie and bow tie cookie cutters
Directions
Brownie batter
1Put oven rack in middle position and preheat oven to 350°F. Butter an 8-inch square baking pan.
2Heat butter and chocolate in a 3-quart heavy saucepan over moderately low heat, whisking occasionally, just until melted. Remove from heat and whisk in sugar, eggs, vanilla, and a pinch of salt until well combined. Whisk in flour until just combined and spread in baking pan.
Cheesecake batter
1Whisk together cheesecake batter ingredients in a small bowl until smooth. Dollop over brownie batter, then swirl in with a knife or spatula.
2Bake until edges are slightly puffed and center is just set, about 35 minutes.
Royal icing
1Add vanilla flavoring into 1/2 cup water and set aside until step 3.
2In the mixer (paddle attachment), gently mix confectioners sugar and meringue powder on low.
3Add 1/2 cup flavored water and mix on low until it is thick and lumpy.
4Now drizzle the remaining water as needed until it becomes a thick like honey consistency.
5At this point, turn mixer on medium speed for 3 minutes or so until icing is thick and fluffy. Stop when it forms a soft peak.
Decorate
1Combine blue dye with royal icing. Cut out shapes of ties with cutters. Outline ties with blue royal icing and serve.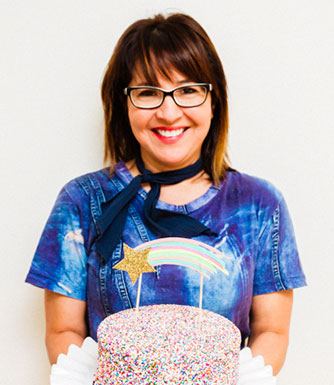 LET'S BAKE TOGETHER!
Don't Miss A Recipe