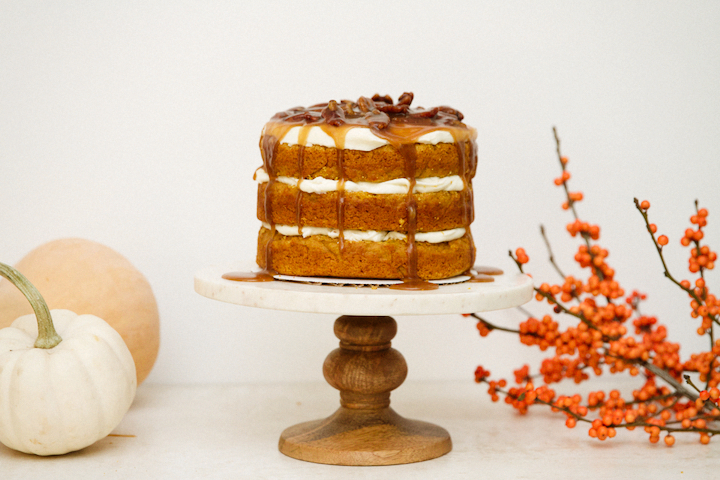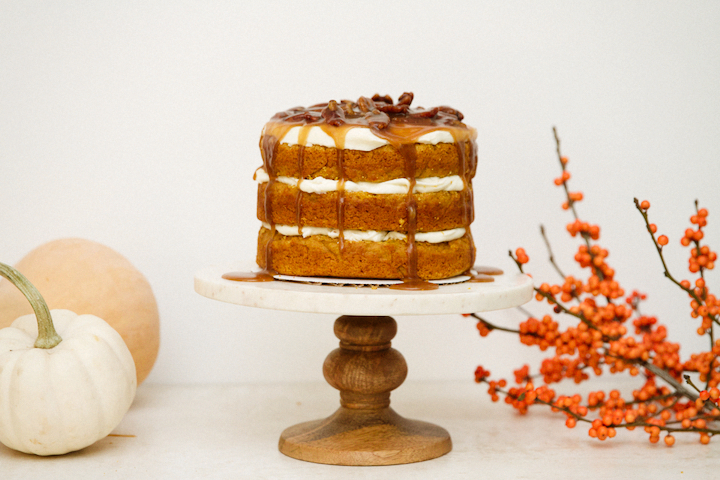 Praline Pumpkin Cake with Maple Cream Cheese Frosting
By TheSweetNerd Cakes
October 17, 2016
Cake Recipe Credits: Food 52, Posie Harwood
Praline Recipe Credits: Mindy Segal, Cookie Love
Ingredients
Cake
3/4 cup butter, at room temperature
Frosting
4 ounces cream cheese, room temperature
2 tablespoons unsalted butter, room temperature
2/3 cup confectioners sugar, sifted
2 tablespoons pure maple syrup
Pecan Praline Sauce
3/4 cup unsalted butter, room temperature
1/2 cup firmly packed light brown sugar
1/4 cup firmly packed dark brown sugar
1 teaspoon pure vanilla extract
Directions
Cake
1Preheat the oven to 325° F. Butter and flour three round 6-inch cake pans.
2Whisk together the flour, salt, spices, baking powder, and baking soda in a large bowl and set aside.
3In a separate bowl or in a stand mixer, cream together the butter and sugar until light and fluffy. Add the eggs one at a time, mixing after each addition.
4Add the pumpkin, evaporated milk, water, and vanilla, mixing after each addition.
5Add the dry ingredients and beat until just combined.
6Pour the batter into the prepared pans and bake for 35 to 40 minutes, or until the cake springs back to the touch and pulls away from the sides of the pan. Let cool in the pans for 10 minutes, then turn the cakes out onto a cooling rack to cool fully. It's best to chill the cakes in the refrigerator before frosting them.
Frosting
1Using an electric mixer on medium-high speed, beat cream cheese and butter in a medium bowl just to combine. Reduce speed to low and gradually add sugar, then maple syrup and salt; beat until smooth.
Pecan Praline Sauce
1In a pot, melt the butter over medium heat. Mix in the maple syrup, sugar, vanilla, and salts and stir until homogenous. Bring the mixture to a boil and boil for 3 minutes to thicken. Pour in the heavy cream, stirring to combine. Let the mixture reduce for 3 to 4 minutes, or until it lightly coats the back of a spoon. Stir in the nuts. You will have approximately 2 1/2 cups of sauce.
2Pour over the cake by the spoonful. Let it drip over the sides. Serve immediately.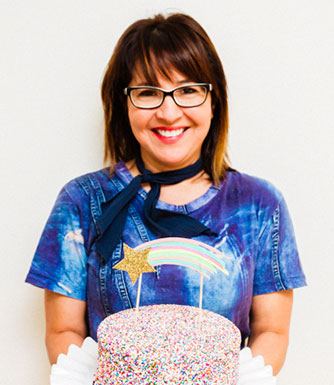 LET'S BAKE TOGETHER!
Don't Miss A Recipe