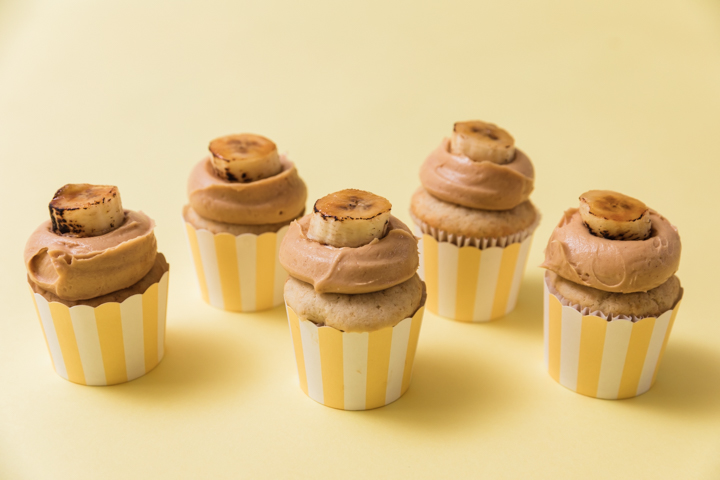 Ingredients
Banana Cupcakes
2 cups cake flour (not self-rising)
1⁄2 cup plus 6 tablespoons unsalted butter, at room temperature
1 1⁄2 cups mashed ripe bananas (about 3 bananas)
Peanut Butter Frosting
5 Tablespoons unsalted butter, softened to room temperature
Bruleed Banana
Directions
Banana Cupcake
1Preheat the oven to 350 F. Line two 12-cup muffin pans with cupcake liners and set aside.
2In a large bowl, sift together the cake flour, all-purpose flour, baking powder, baking soda, and salt. Set aside.
3Combine the buttermilk and vanilla in a large measuring cup with a spout. Set aside.
4Combine the butter and sugar in the bowl of a stand mixer fitted with the paddle attachment, and beat at low speed until the mixture is smooth and creamy, about 1 minute if the butter is soft. If the butter is cool, it will take longer. Add the eggs one at a time, mixing well and scraping the bowl after each addition, and waiting until all traces of each egg have disappeared before adding the next one.
5Add the bananas and stir until smooth. Add the dry ingredients in three parts, alternating with adding
6the wet ingredients in two parts. Keep the mixer at the lowest speed, and mix each time just until the ingredients are combined. When everything has been added, scrape the bowl and paddle one more time, and stir the batter just until it's smooth. Let the batter rest for 15 minutes. Stir gently before using.
7Fill the cupcake liners three-quarters full. Bake until the tops of the cupcakes are firm and a cake tester inserted in the center of a middle cupcake comes out with just a few crumbs, about 20 minutes. Let the cupcakes cool for 5 minutes in the pans before removing to a rack to cool completely.
Peanut Butter Frosting
1With a handheld or stand mixer fitted with a paddle or whisk attachment, beat the butter on medium speed until creamy, about 2 minutes. Add the peanut butter, confectioners' sugar, heavy cream, vanilla extract, and salt with the mixer running on low. Increase to high speed and beat for 3 full minutes. Add up to 1/4 cup more confectioners' sugar if frosting is too thin or another Tablespoon of cream if frosting is too thick.
2Cover tightly and store for up to 1 week in the refrigerator.
Bruleed Banana
1Sprinkle layer of sugar on top of banana slice and torch to caramelize.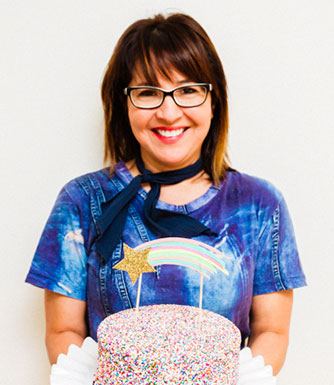 LET'S BAKE TOGETHER!
Don't Miss A Recipe