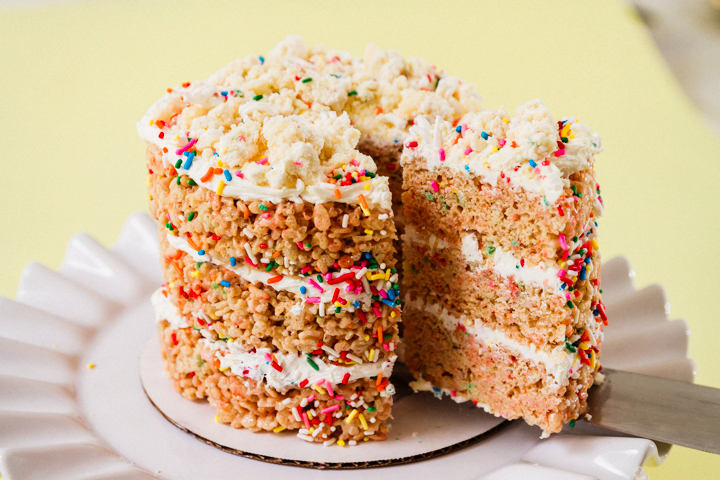 Ingredients
Rice Krispie Cake Layers (double to make 3)
3 tablespoons unsalted butter or soft natural buttery spread*
1 - 10 ounce package miniature marshmallows
1/2 teaspoon pure vanilla extract
Line three 6" pans with sprayed parchment
Frosting
1.5 cups unsalted butter, at room temperature
3 cups confectioners' sugar, sifted
Funfetti Crumble
3⁄8 cup instant nonfat dry milk, such as Carnation
2 tbsp. unsalted butter, melted
Directions
Rice Krispie Cake Layers
1Prepare three 6" round pans by placing a piece of parchment on the bottom and spraying lightly with nonstick spray (or you can butter too). Melt butter in large sauce pan over low heat. Add marshmallows and stir until melted and well-blended. When almost melted, add 3 teaspoons milk to help thin the marshmallows for even coverage.
2Cook 2 minutes longer, stirring constantly.
3Remove from heat.
4Add cereal and jimmies. Stir until well coated.
5Using buttered spatula or waxed paper, press mixture evenly and firmly in buttered 6 inch round cake pan.
6Also, I find it helpful to spray a clean spatula when I am pressing down onto the rice krispies.
Frosting
1In a stand mixer fitted with the paddle attachment, cream the butter. Start with the mixer at the lowest speed, then gradually increase the speed, using a rubber spatula to scrape the bowl as needed, until the butter is light in color, is perfectly smooth, and makes a slapping sound as it hits the sides of the bowl. This should only take 30 seconds, but if the butter is cool, it can take a couple of minutes.
2Add the sugar and mix at the lowest speed until it's fully incorporated before adding the next cup. When all the sugar has been added, scrape the paddle and the bottom and sides of the bowl.
3Add the vanilla and salt, and beat at low speed for 15 seconds. Increase the speed to as high as you can without making a mess, and whip the buttercream until it is perfectly smooth, creamy, and light, about 5 minutes. Stop the mixer once or twice to scrape the bowl and paddle, then continue beating. At first the buttercream will appear to soften, then it will stiffen and increase in volume.
4Use right away, or store in an airtight container for up to a week in the refrigerator. When you're ready to use it, let the buttercream come to room temperature, then put it back in the stand mixer and use the paddle attachment to beat it until it's creamy and stiff again.
Funfetti Crumble
1Heat the oven to 250°. In a medium bowl, whisk half of the dry milk with the flour, cornstarch, sugar, and salt. Add the butter and stir with spatula until the mixture forms small clusters. Spread the clusters onto a parchment paper-lined baking sheet and bake until dried and sandy, 20 minutes. Transfer the clusters to a rack and let cool completely.
2Return the clusters to a bowl, break apart any that are larger than 1⁄2 inch in diameter, and then toss with the remaining half of dry milk until evenly coated. Pour the white chocolate over the crumbs and toss with the spatula until evenly coated, tossing every 5 minutes until the chocolate is cooled completely and no longer sticky. Transfer the crumbs to a container and refrigerate for up to 1 week.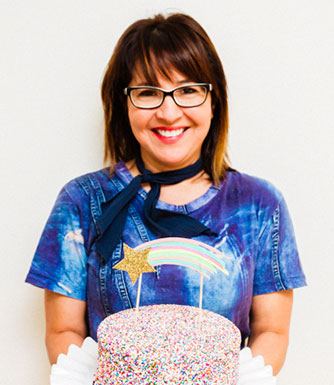 LET'S BAKE TOGETHER!
Don't Miss A Recipe