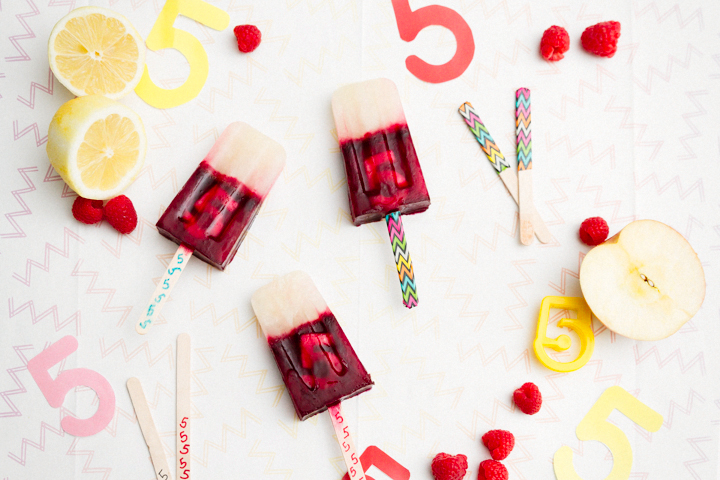 Ingredients
12 strips lemon zest (from about 2 lemons)
2 cups fresh lemon juice (from about 10 lemons)
6 ounces fresh raspberries and blackberries for passion fruit steep
4 apples, cut with a shape for Cinco De Mayo (I used a 5)
* Add 2 tablespoons of tequila to the lemon layer if you are serving adults.
Directions
Lemonade Layer:
1Make a simple syrup by heating the sugar and 2 cups water in a small saucepan over high heat. Stir occasionally until sugar is dissolved about 3 minutes. Remove from heat and add lemon zest. Let steep for 20 minutes. Remove zest and refrigerate syrup until completely chilled about 1 hours. Combine half of the syrup, 1 cup lemon juice, and 1 cup water in a measuring cup.
Passion Fruit Layer:
1Place tea bags in a measuring cup and add 1 cup boiling water. Add fresh fruit and let steep for 8 minutes. Remove bags and fruit. Refrigerate until completely chilled for about 1 hour. Combine remaining simple syrup, remaining 1 cup lemon juice, and passion fruit tea in one measuring cup.
Apples For Cinco:
1Slice apples and cut out with a fun Cinco De Mayo Shape. Add into last layer of passion fruit. Push to the outsides of the mold so you could see the shape once it is frozen.
Assembly:
1Fill a popsicle mold with the lemonade. Freeze for at least two hours.
2Fill with fruit, then passion fruit and place in popsicle stick. Freeze for 24 hours.
3To get the popsicles to release from the mold, run under warm water for a few seconds.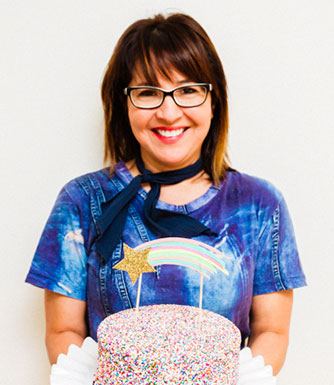 LET'S BAKE TOGETHER!
Don't Miss A Recipe