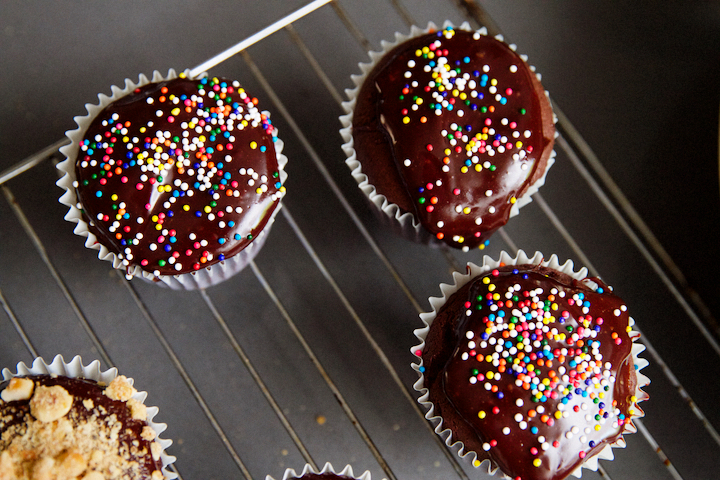 Ingredients
1/2 cup unsweetened cocoa powder
6 tablespoons butter, softened
3/4 cup sugar, plus 2 tablespoons
2 tablespoons mini semisweet chocolate chips
Chocolate Ganache (Adapted from Barefoot Contessa)
8 ounces good semisweet chocolate chips
Milk Crumble (Adapted from Milk Bar)
Directions
1Place rack in the middle of oven and preheat to 350 degrees F. Line 12 muffin cups with cupcake papers.
2In a medium bowl, sift together the flour, cocoa powder, baking powder and salt, and set aside. Using a mixer, cream the butter and 3/4 cup sugar until pale yellow, about 1 minute. Add the egg and stir until just incorporated. Mix in the milk. Add the remaining flour mixture and stir until combined. Set aside.
3In a small bowl, mix together the cream cheese, 2 tablespoons sugar and vanilla. Stir in the chocolate chips and walnuts.
4Fill prepared cupcake liners with enough chocolate batter to just cover the bottom. Add a dollop of the cream cheese filling to each, then top with remaining batter.
5Bake for 20 minutes. Let cupcakes stand in pan for 3 minutes and then remove and allow to cool completely on a rack.
Chocolate Ganache
1Cook the heavy cream and chocolate chips in the top of a double boiler over simmering water until smooth and warm, stirring occasionally. Drizzle or dip the cupcakes into the ganache for coverage.
Milk Crumble
1Combine the 1/2 cup milk powder, flour, cornstarch, sugar and salt in a medium bowl. Toss with your hands to mix. Add the melted butter and toss, using a spatula, until the mixture starts to come together to form small clusters.
2Spread the clusters on a parchment-lined sheet pan and bake for 20 minutes. The crumbs should be sandy at that point. Cool the crumbs completely.
3Crumble any milk crumb clusters that are larger than 1/2 inch in diameter, and put the crumbs in a medium bowl. Add the 1/4 cup milk powder and toss together until it is evenly distributed throughout the mixture.
4Pour the chocolate over the crumbs and toss until your clusters are enrobed. Then continue tossing them every 5 minutes until the chocolate hardens and the clusters are no longer sticky.
5Serve these cupcakes immediately, as they have cream cheese inside. Or, you can keep the cupcakes in the refrigerator.
Ganache is modified from Barefoot Contessa
Milk Crumble is adapted from Milk Bar, Christina Tosi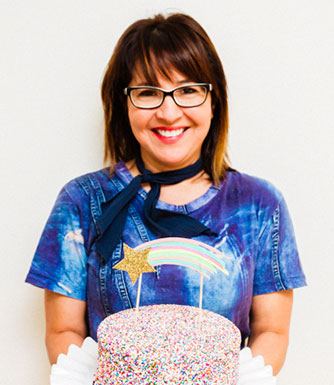 LET'S BAKE TOGETHER!
Don't Miss A Recipe